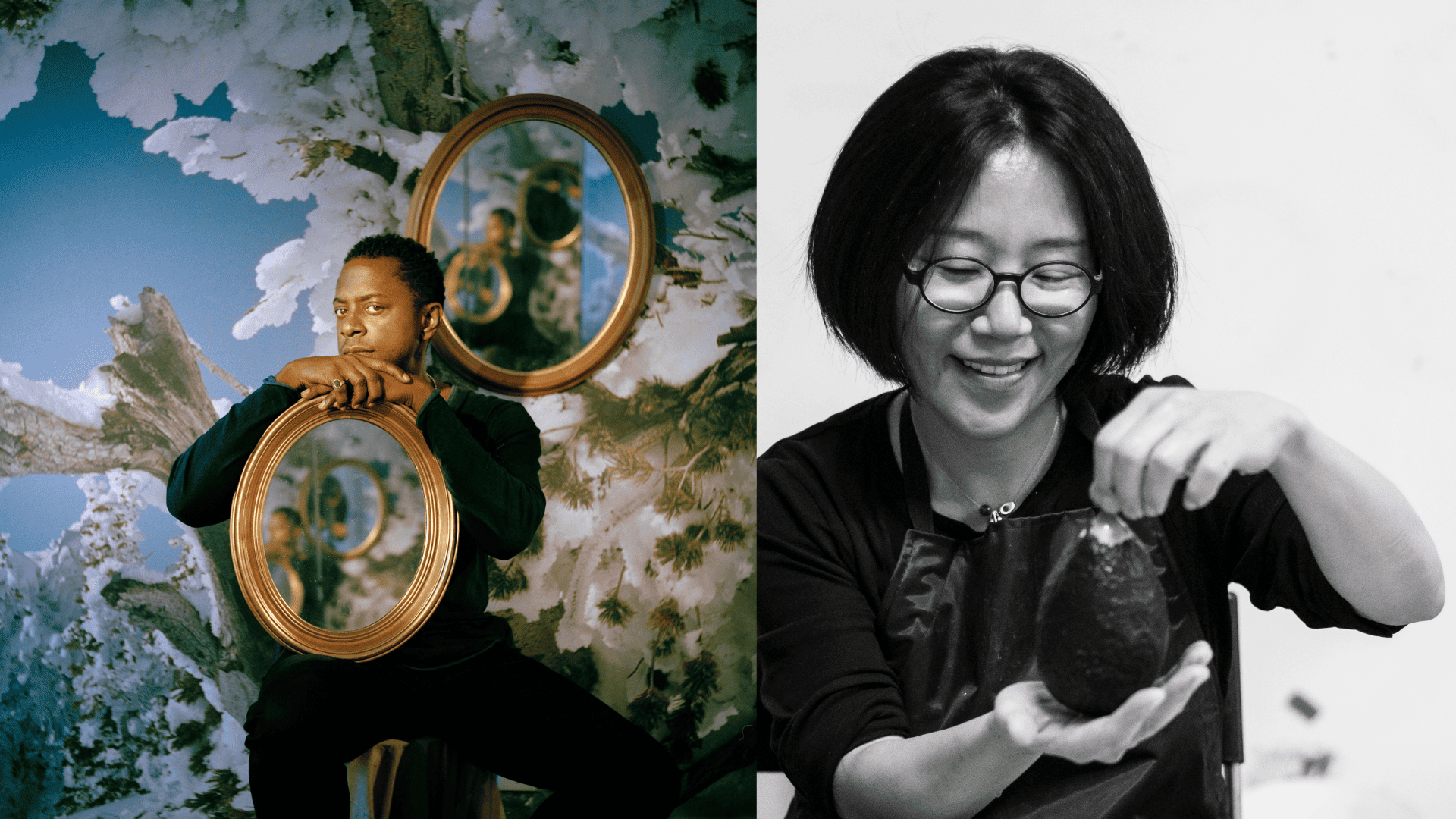 Left: Sanford Biggers, photography by Matthew Morrocco. Right: Yoonhee Choi, photography by Samuel Gehrke.
FOR IMMEDIATE RELEASE – November 16, 2023
Portland, OR – The Regional Arts & Culture Council (RACC) in collaboration with the Port of Portland (Port) is pleased to announce the selection of two artists, Yoonhee Choi and Sanford Biggers. Both artists will be creating a unique artwork to be permanently installed in the new main terminal facility at Portland International Airport (PDX). Choi and Biggers's artworks will both be a part of the first phase of the terminal core (TCORE) redevelopment project for PDX — the keystone project in an overall $2 billion renovation. Choi and Biggers' projects will be on display with the opening of the new terminal in May 2024. These are the first of many artworks to be commissioned for TCORE.
Yoonhee Choi (Portland, OR) will be composing an artwork design for two glass walls located in the pre-security queuing area for both North and South TSA security checkpoints. Her first commissioned public artwork, Choi's two 56-foot long, 11-foot high glass walls will be visible from both the concourse connector passageway and from the security queuing area. These large scale works will be  site-specific compositions developed from Choi's mixed media collages, which are both whimsical and structured in their design. View images of Choi's work and full artist bio.
Sanford Biggers (NYC, NY) will be creating two large scale, signature artworks that will be suspended from the ceiling in an area between both entries of the concourse connector passageway and situated around the concession's pavilions. These post-security artworks will greet travelers once they pass through the TSA checkpoints. This work is Biggers's first commissioned public artwork in the Pacific Northwest and these sculptures will be in dialogue with his quilt-based works which he has engaged with since 2009 titled the Codex series. View images of Biggers's work and a full artist bio.
"When we opened the request for proposals last year, in partnership with the RACC, our goal was to create opportunities for historically underrepresented artists and to elevate the visibility of unique perspectives at PDX," said Wendy Given, Port of Portland Art Program Manager. "With the selection of Yoonhee Choi and Sanford Biggers, I believe we're meeting those goals. They are both world-class artists, and it will be a privilege to have their stellar work integrated into the fabric of PDX for thousands of travelers to experience every day."
Yoonhee Choi – "As an immigrant and Portland-based artist, I am especially excited to have this opportunity to create such a significant artwork that will help represent our city to the world. A focus of my practice is creating site-specific artwork that responds to its individual situation and surroundings. I am inspired by the soaring and sensitive design of the PDX redevelopment and captivated by how an airport is the portal at the beginning and end of so many meaningful and memorable journeys."
Sanford Biggers – "I'm thrilled to showcase a large-scale permanent installation as part of the PDX Terminal Redevelopment Project and for the occasion to be in dialogue with the rich artistic heritage in the Northwest. The unique opportunity of this project and the architecture designed by ZGF Architects inspires me to consider how I can create an artwork that responds directly to the context of a space that embodies transition, energy, interaction, movement, and potential."
"RACC is simply elated with these selections and our opportunity to continue our partnership with the Port of Portland, and the Arts Selection team there," said Kristin Calhoun Director of Public Art. "The choice of these artists through an art panel managed by RACC is emblematic of the work we strive to do every day. With Yoonhee Choi, it's working with the amazing artists in our region by assisting them in the process of developing and transitioning their studio art practice into their first public art commission. Working with Sanford Biggers and his team has been a joy and we at RACC are very proud to be a part of bringing his first Pacific Northwest public artwork to the PDX Airport."
Contact Information
About the Regional Arts & Culture Council
The Regional Arts & Culture Council is a 501(c)(3) nonprofit organization that provides impactful and transformative funding for artists and nonprofit organizations in Clackamas, Multnomah, and Washington Counties; manages an acclaimed public art program; leads an advocacy and arts education program; and offers a wide range of technical and professional development workshops. RACC advocates for equity, inclusion, and access, working to build a community in which everyone can participate in culture, creativity, and the arts. We remain steadfast in our mission to enrich every neighborhood we serve. For more information, please visit racc.org.
About Port of Portland
With three airports, four marine terminals, and five business parks, the Port of Portland is an economic engine for transforming the region into a place where everyone is welcome, empowered, and connected to the opportunity to find a good job or grow their business. The Port works to pull down barriers and provide access to people and local businesses who have been left out of the region's economic growth—including people of color, low-income workers, and people with disabilities. Collectively, the Port leads big projects in the region, including expanding PDX airport and making it more accessible and efficient; transforming a former marine terminal into a site for innovation in the housing construction and mass timber industries; and providing more options for Pacific Northwest businesses to send their products around the world. For more information, visit www.PortofPortland.com