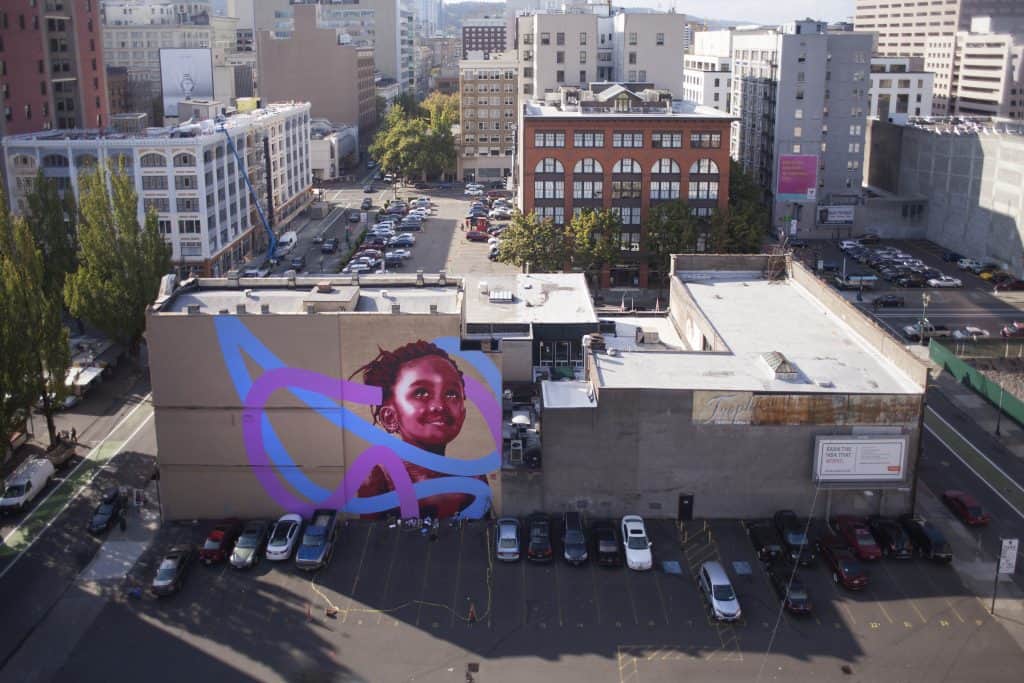 Al-Amir Restaurant, Kevin Ledo + students of David Douglas High School, 2016 
There are two options to create an art mural in Portland:
Option 1
Artists and organizations may apply for matching funds through the Public Art Murals Program which is funded by the City of Portland and administered by RACC. New guidelines to arrive soon.
To apply to the Public Art Murals Program, go to the Online Mural Application. Proposals can be submitted by 5:00PM on the last Wednesday of every month. The approval process takes approximately 4-6 weeks and proposals are reviewed by the Public Art Murals Program Committee, whose members include artists, arts advocates and other creative professionals.
For a project to qualify for RACC approval, property owners are required to provide a signed/notarized Art Easement Form  that is recorded with Multnomah County. Murals approved through this program become part of the City's public art collection for as long as the Art Easement remains in effect.
*****UPDATE as of 10/20/17: Over the past two years, the Murals Program has reviewed a robust number of applications, and the program has depleted its FY2017-18 funding. This fall/winter we are temporarily suspending the funding component of the program as we work to identify additional funding and review/update the application process and guidelines. If you already have funding and are seeking approval for a mural through RACC because it would not fit the requirements of the City's Original Art Mural Permit, you may still submit an application; however, we strongly suggest that you contact Salvador Mayoral IV (smayoral@racc.org | 503.823.5865) about your plans prior to submitting anything.  We hope to have these changes implemented by the spring/summer of 2018.*****
Option 2
Artists may apply for a $50 Original Art Mural Permit through the City's Bureau of Development Services, which has different requirements.
Visit http://www.portlandoregon.gov/bds/50737 for more information.
Muralist Roster
The Muralist Roster is an on-line resource that can be used by anyone seeking an artist for a mural project – community groups, business or property owners, schools, architecture firms, private developers or other public art programs.  The intent of the roster is to provide users a range of artistic styles from which to select an artist that fits the needs of a particular project.
The roster artists were selected by RACC's Public Art Murals Program Committee demonstrate the skills, experience and interest in designing and painting large scale paintings and/or murals. As you review this roster, read about each of the artists in their own words and view details of up to three past projects to get a feel for their work.  Links to websites and social media outlets allow you to further explore their practice. All artists live and work in either Oregon or Washington and have previous experience working large scale.
To view or download a PDF of the roster, click here. To view the collection of Public Art Murals approved since 2005, visit RACC's Public Art Search page.
Muralist Roster Update. The deadline for submitting application materials is the first Wednesday of every month. Materials will be reviewed quarterly in January, April, July, and October.  For more information, visit the RACC Muralist Roster webpage.
Resources
Chicago Public Art Group's Community Public Art Guide
City of Philadelphia Mural Arts Program
Denver Public Art Urban Arts Fund
Forest For the Trees Northwest
Rescue Public Murals/Mural Creation Best Practices
Social and Public Art Resource Center (SPARC) in Los Angeles