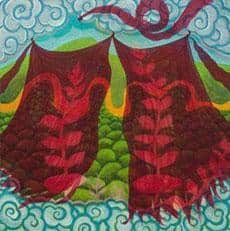 The Regional Arts & Culture Council (RACC) has added 52 new works by 32 Oregon artists to its portable works collection. The collection of more than 1,000 pieces represents hundreds of Northwest artists, and these artworks are displayed on a rotating basis in publicly accessible buildings throughout the City of Portland and Multnomah County.
RACC purchases artwork for the portable works collection every few years or so, when accumulated funding from the city and county reaches a significant level. The budget for this round of purchases was $57,100. An important goal of this year's purchase was to expand the artists and subject matter represented; only artists who weren't in the collection already were eligible to submit artwork for consideration.
The artworks selected for this purchase include paintings, drawings, photographs, prints, mixed media works and wall mounted sculpture. They were chosen by an independent panel of artists, curators and Multnomah County representatives. The panel reviewed more than 1,200 digital images that were submitted for consideration, and made their final selections based on viewing actual artwork.
Several of these newly purchased artworks will be on display at RACC's offices, 411 NW Park Avenue, Suite 101 in Portland, from April 5th to May 4th, 2012.
A list of the artists selected follows below. For a list of all the individual artworks purchased, with titles and thumbnail images included, please see PDF below. To request use of a specific image, contact Public Art Collections Manager Keith Lachowicz at klachowicz@racc.org. For more information on the Portable Works Collection, or other collections managed by RACC, visit http://racc.org/public-art/search.
Artists added to the Portable Works Collection, spring 2012:
Holly Andres
Corey Arnold
Pat Boas
Deanna Bredthauer
Esteban Camacho Steffensen
Laurie Danial
Rachel Davis
Shawn Demarest
Justin Finkbonner
Bobby Fouther
Kwa Franklin Ghong
Surabhi Ghosh
Damien Gilley
Pat Courtney Gold
Trish Grantham
Sabina Haque
Farooq Hassan
Kathy Karbo
Jesus Kobe Garcia
Kendra Larson
Stu Levy
Ron Mills de Pinyas
Pepe Moscoso
Susan Murrell
Thomas Le Ngo
Trude Parkinson
Hampton Rodriguez
Grace Sanchez
Gwenn Seemel
Sara Siestreem
Shu-Ju Wang
Tammy Jo Wilson