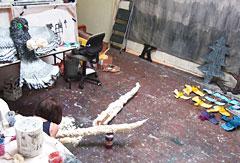 Project Description: Kendra Larson's installation Aviary is designed to spark conversation about the ownership of nature. Drawing on her interest in literature of the woods, contemporary film noir, and research on natural phenomena Larson was inspired to combine her slightly spooky wall paintings—a mix of conifer trees, mountain vistas and clouds—with an aviary of bird sculptures constructed of paper, wire, wood, silicone caulk, paint, vinyl, and other industrial materials. The easily identifiable avian sculptures are cute and un-nerving at the same time. While the entire installation functions as a large scale forest diorama with recognizable Northwest flora and fauna, it moves beyond being a merely a regionally specific exploration of wilderness. The undertow of the installation touches on the artist's contemporary ideas of Romanticism, place, humor and fear. With Larson's unique painting technique to serve as a backdrop for her eclectically assembled perched and flying birds, our central sense of what constitutes the forest, and who might belong there, is tweaked and reimagined.
"The Portland Building is the perfect place for this project since I am interested in bringing questions of humor, fear, and the sublime into a public site that is inhabited by a wide range of art viewers. Ultimately, I see this as an opportunity to build a site-specific installation that addresses how we interact with nature and the way art contributes to this understanding."

While Aviary is intended to delight and intrigue, it also works to present a deeper, more complicated definition of what "being in the wild" really means.
About the Artist: Kendra Larson lives in Portland; she received her M.F.A. from the University of Wisconsin at Madison and her B.F.A. from Pacific Northwest College of Art. Her studio practice typically takes the form of large paintings which explore concepts associated with Romanticism, contemporary landscape, and the notion of place. Larson is an Adjunct Professor at Willamette University in Salem, Oregon, and shows frequently in the Northwest.
Viewing Hours & Location: 7 am to 6 pm, Monday – Friday. The Portland Building is located at 1120 SW 5th Avenue in downtown Portland.
For more information on the Portland Building Installation Space including images, proposals and statements of all installations since 1994, go to www.racc.org/installationspace.