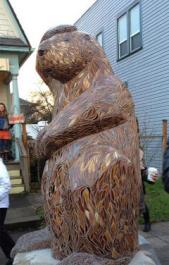 A new sculpture, Noble Architect, was dedicated on Friday December 14 at 3:30pm by the artists at NE Alberta Street at 18th. This artwork was selected by a local panel of artists and citizens, and will become part of the City of Portland's Public Art Collection, administered by the Regional Arts & Culture Council.
Artists Ruth Frances Greenberg and David Laubenthal conceived of the sculpture to "mirror the ebullient, raw and wonderful vigor of nature as well as our relationship to it."  Many different species of animals inhabited and thrived in this area before it was settled as the Portland we know. One of the abundant animals was the beaver. One could scarcely take a short walk without seeing one.
In a written statement, the artists explained their inspiration: "With so much regional history and lore we chose this remarkable animal to represent our reverence and respect for the resilient, beautiful, and abundantly generous natural world that remains intertwined with our human development. Our rendition of the beaver is intended to show the beaver in its innate majesty, grace, wildness, and dignity. It is an homage…a reverent depiction of a magnificent animal." Its pose is dignified and vaguely humanized, standing on its stump, at just over six feet tall. The "fur" is a richly, hand-crafted, textured mosaic, inviting "petting" from passersby.