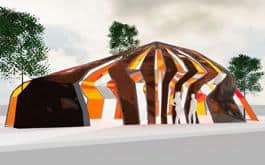 RACC and artist Jorge Pardo have begun installing a new Streetcar Art Shelter at NE Broadway and Weidler. This eccentrically shaped sculpture will provide a shelter with "rainy on the outside, sunny on the inside" experience for waiting streetcar passengers.
Fabricated of steel, wood and fiberglass, the new shelter measures 35' long by 18' wide by 16' tall. The multi-faceted structure will include over 300 individual panels in shades of gray and brown on the exterior, with warm hues of orange and yellow on the inside, sheltering passengers north of the Rose Quarter in a highly visible and fantastically colorful way.
Los Angeles based Pardo was the recipient of a 2010 MacArthur Foundation Fellowship who exhibits his work globally. This is his first municipal project in the United States. It is funded by the percent-for-art set-aside for the Portland Streetcar expansion project, and will take about a month to fully install.
The shelter is a complement to the other large scale project commissioned for the Portland Streetcar expansion, Lead Pencil Studio's Inversion: Plus Minus which will be located at Grand & Hawthorne and Grand & Belmont. The installation of Inversion: Plus Minus is now over half complete, with completion expected this summer.