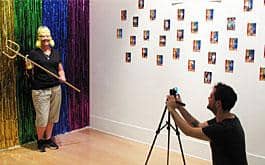 Project Background: Despite her notoriety and our love for her, Portlandia is irrefutably rooted in European sculptural tradition. The 35 foot high hammered copper statue that graces the façade of the Portland Building depicts the image of a classical female figure with European features. In that sense she represents only a portion our city's diverse population. Artist and performer Anthony Hudson, who identifies as a "queer Portlander, a native Oregonian, and a Grand Ronde Indian," will offer up a series of alternate Portlandias that embody the diversity that exists in Portland today. "Queering is essentially to make something queer, different, to make it anti-oppressive; queering here is to make Portlandia accessible again, giving an underprivileged audience a chance to recreatePortlandia in their own image."
During set hours each week (noon to 2 pm Monday – Thursday, or by appointment via ahudson@pnca.edu), Hudson will transform the Installation Space into a photo booth/performance set complete with a selection of costumes and props. The project is open to anyone who wishes to take part, participants are invited to pose or perform on camera to create their own version of Portlandia. In the artist's words "Queering Portlandia will allow for a multitude of new Portlandias: Portlandia as a person of color, Portlandia as queer, Portlandia as a person with disabilities, Portlandia as a true, living Portlander. Queering Portlandia will demonstrate our community's commitment to providing visibility, safety and opportunity to all its citizens."
About the Artist: Anthony Hudson is an Oregon native and received his BFA in Intermedia from Pacific Northwest College of Art in 2013. His work draws on mythology, theatre, popular culture, and critical theory; he has been featured in Hand2Mouth Theatre's Risk/Reward Festival, Conduit Dance's Dance+ Festival, and Performance Works NW's Richard Foreman Mini-Festivals. Hudson is perhaps best known as Portland's drag clown Carla Rossi, "an immortal trickster whose attempts at hegemonic realness almost always result in fantastic failure and revelations of her own mutability and vulnerability."
About the Installation Space: Each year the Portland Building Installation Space series reserves several exhibition opportunities for advanced students in fine art. The format and presentation requirements for the student installations are identical to those for established professional artists, the Regional Arts & Culture Council created this separate eligibility category to help introduce emerging talents to the world of public art. Anthony Hudson is the 3rd student artist to present work this season.
Viewing Hours & Location: 8 am to 5 pm, Monday – Friday. The Portland Building is located at 1120 SW 5th Avenue in downtown Portland. Admission is always free. Queering Portlandia runs through August 2nd.
For more information on the Portland Building Installation Space series, including images, proposals and statements for all the installations since 1994, go to www.racc.org/installationspace.