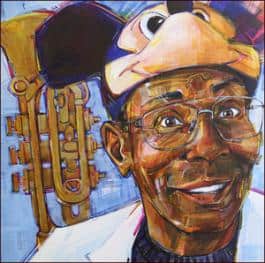 PORTLAND, ORE — Over the next two weeks, Portland artist Gwenn Seemel will be working on a mural-sized portrait of Kirk Reeves, the Portland street performer and musician who passed away in November of 2012. The 10' x 30' foot mural, funded by RACC, will be painted along the east facing wall of a building on the southwest corner of Grand Avenue and Lloyd Boulevard, formerly the location of Rich's Deli.   
The portrait will show Reeves in his trademark white tux, black sparkly sweater, his trumpet and red sequined hat. The background will be the musical score for the first few bars of "Somewhere Over the Rainbow," a song often played by Reeves on his trumpet. The background will contain a rainbow of Seemel's distinctive energetic marks. 
Reeves regularly performed on the Hawthorne Bridge, playing his trumpet and performing magic tricks to the delight of local commuters. As Gwenn writes on her blog, "…he was always dressed to the nines—white tuxedo with tail, sparkly black sweater, Mickey Mouse hat…He was doing what he loved and he was glad for it."  Her mural of him will capture his lively presence that was appreciated by young and old alike.
RACC's public art mural program, financed by the City of Portland, provides funding for murals that reflect diversity in style and media and encourages artists from diverse backgrounds and range of experience to apply. Murals approved through this program become part of the City's public art collection. For more information, visit racc.org/murals.