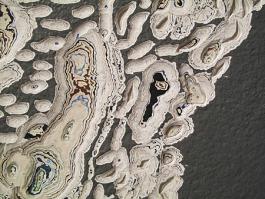 PORTLAND, ORE — While researching the history of art installations at the Portland Building (the program dates back to 1994 and has presented over 130 exhibitions in the gallery space adjacent to the building lobby) artist Yoonhee Choi was intrigued by the fact that the walls of the gallery are covered with hundreds of layers of paint. Choi began to wonder what these layers might look like if displayed in cross-section. As her idea developed, she considered how she might mine the archeological stratigraphy in a manner that would get visitors thinking, in profound terms, about all those past art installations:
"When I heard there were hundreds layers of paint under the surface of the wall, a wonderful, evocative sectional image of those paints instantly came across my mind reminding me of archeological stratigraphy. I was excited by the idea of selectively revealing this history and of using the concealed strata of paint to inspire the creation of a new topographical landscape within the space that explores the condensed scale and time of human interventions: 20 years of history within millimeters of wall surface."
Choi will mark her own installation by applying a fresh top-coat of gray paint before cutting into the walls to reveal the history concealed within the strata. By systematically excavating (with utility knives and carving tools) and formally presenting the "unearthed" layers in a museum case, and on a specially built display wall, she'll create a wordless homage to all the artists before her who have labored earnestly at the site in the name of art.
About the Artist:  A resident of Portland, Oregon, Yoonhee Choi studied at Boston's School of the Museum of Fine Arts after receiving a Master of Architecture degree from Yale University and a Bachelor of Engineering in City Planning from Hong-Ik University in Seoul, Korea. Her projects, which range from small collages to room-sized installations, express multiple scales of spatial experience as they explore the potential of the unexpected materials she uses.
Viewing Hours & Location: The Portland Building is located at 1120 SW 5th Avenue in down-town Portland and is open 8 am to 5 pm, Monday – Friday. The exhibition will open September 15 and run through October 10.
A Conversation with the Artist: Friday, September 19th from 4pm – 5pm; Yoonhee Choi will be on-site at the Portland Building to discuss STRATAscape.
For more information on the Portland Building Installation Space, including images, proposals, and statements for all projects dating back to 1994, go to www.racc.org/installationspace.