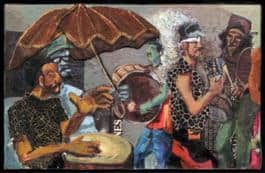 PORTLAND, ORE – The Regional Arts & Culture Council (RACC) is seeking artwork — paintings, prints, drawings, photographs or three-dimensional wall pieces — to purchase for the Portable Works Collection.  Professional artists from Oregon and Washington are invited to apply, and the focus of this purchase will be to add work by artists are not currently represented, or are under-represented, in the collection.
Multnomah County and the City of Portland have built a collection of two and three-dimensional artworks that are administered and managed by RACC. More than 1,000 artworks, representing hundreds of Northwest artists, are regularly rotated throughout publicly accessible spaces in County and City buildings. The collection strives to reflect a diversity of populations, artistic disciplines and points of view. Images from the collection can be searched online.
One location that will be of particular focus for this purchase will be the Multnomah County Southeast Health Center, which was recently renovated. Some of the purchased works will be placed in the waiting area and the hallways leading to exam rooms.
Artists who are interested in learning more can attend a free information session on Thursday, September 25th from 4:00-6:00PM at RACC (411 NW Park Avenue, Suite 101).  Contact Ahmed Yusuf at info@racc.org to reserve a spot.