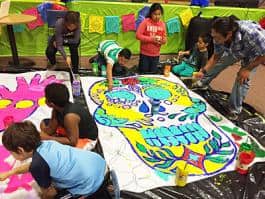 PORTLAND, ORE – The Regional Arts & Culture Council is pleased to present the 2nd annual Día de los Muertos installation at the Portland Building beginning October 28th and running through November 4th. This year the display has been organized by muralist Rodolfo Serna. Known for his large collaborative mural projects, Serna is working with young artists from the Boys & Girls Club to create large scale images on the walls while members of Portland's Mexica Tiahui Aztec Dance Group set up traditionalofrendas (altar) in the center of the exhibition space adjacent to the Portland Building lobby. The Día de los Muertos holiday is focused on commemorating ancestors, family, and friends that have died, and serves to remind us the natural part death plays in the cycle of life. The holiday originated in Mexico, but has expanded over time and is now celebrated throughout the U.S. and beyond.
"This installation is a tradition we bring from across the border that has been part of the indigenous cultures there for thousands of years…we see this as a day and night of reconnecting with our ancestors, the Mexica people; every year we set up an alter in a community space where we can all gather and celebrate."

– Rodolfo Serna
About the Artists:  Rodolfo Serna is a muralist who works in the tradition of his ancestors, he sees the arts as a way of bringing balance and confidence to people's lives. Serna has created over 30 youth-collaborative murals in greater Portland, joining forces with numerous service organizations, educational institutions, and local businesses in the process. For the last 10 years Serna has worked extensively with at-risk and homeless youth communities in Portland. Mexica Tiahui is a traditional Aztec dance circle established over 10 years ago in Oregon with the mission of continuing the traditions, ceremonies, and culture related to Mexican indigenous roots. The organization carries its educational commitment to communities in the Northwest with the goal of lifting consciousness by focusing on the importance of retaining cultural heritage.
Viewing Hours & Location: The Portland Building is located at 1120 SW 5th Avenue in downtown Portland and is open 8 am to 5 pm, Monday – Friday. The Día de los Muertos installation runs from October 28th through November 4th.
For more information on the Portland Building Installation Space, including images, proposals, and statements for all projects dating back to 1994, go to www.racc.org/installationspace.